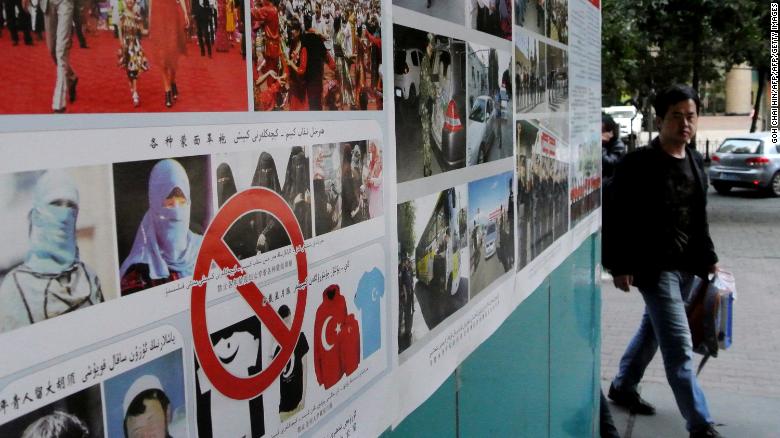 A few reposts on social media picked up a bit of a trend explaining that China was detaining Muslims in concentration camps. My first reaction to it was, by the look and wording, it's probably fake. Though many reposts alike turn out to be false, this one was sadly true. China has been using concentration camps but calls them "re-education camps".
Here's some quotes from sources:
CNN reports
Beijing (CNN)Thousands of Uyghur Muslims are currently being detained in cramped conditions at so-called political education camps in China's restive far-western region of Xinjiang — and the trend shows no sign of abating, exiled Uyghur activists, and human rights advocacy groups say.
"Every household, every family had three or four people taken away," said Omer Kanat, executive committee chairman of the World Uyghur Congress, an umbrella group for the Uyghur diaspora.
"In some villages, you can't see men on the streets anymore — only women and children — all the men have been sent to the camps."
The Guardian reports
At least 120,000 members of China's Muslim Uighur minority have been confined to political "re-education camps" redolent of the Mao era that are springing up across the country's western borderlands, a report has claimed.
The Independent reports
Muslims were detained for re-education by China's government and made to eat pork and drink alcohol, according to a former internment camp inmate.
Omir Bekali, one among perhaps a million people reportedly arrested and held in mass re-education camps, said he was detained without trial or access to a lawyer and forced to disavow his beliefs while praising the Communist Party.
Mr. Bekali, a Kazakh citizen, said he contemplated suicide after 20 days in the facility – which itself followed seven months in a prison.
The Tribune reports
Some have called it "the largest mass incarceration of a minority population in the world today" while a leading historian called it "cultural cleansing".
Bekali stated that when inmates refused to follow orders, they were made to stand against a wall for five hours at a time. Bekali was punished with solitary confinement and deprived of food for a whole day, according to his account.
"The psychological pressure is enormous when you have to criticise yourself, denounce your thinking – your own ethnic group," Bekali told The Independent, who broke down in tears as he described the camp. "I still think about it every night, until the sun rises. I can't sleep. The thoughts are with me all the time."
And
Re-education camps are mostly for the ethnic Muslims in the Chinese province of Xinjiang, a province half the size of India.
Times of India reports
Chinese officials have largely avoided comment on the camps, but some are quoted in state media as saying that ideological changes are needed to fight separatism and Islamic extremism. Radical Muslim Uighurs have killed hundreds in recent years, and China considers the region a threat to peace in a country where the majority is Han Chinese.
It is obvious that freedom of thought and religion are very limited in China. China, as reported by Times of India, uses fear, such as saying that the camps are needed to fight Islamic extremism, to bring about unethical acts.
A report by Reuters says
China says it faces a serious threat from violent extremism, particularly in its western region of Xinjiang, where hundreds of people have been killed in recent years in unrest between mostly Muslim ethnic Uighurs and majority Han Chinese.
While using the potential harm of terrorist acts as justification to detain innocents, China hides the much greater potential harm the government itself poses to the people. It is rather interesting that China uses fear of Islamic extremists killing people to push for "cultural cleansing" when the government of China once murdered 10,000 people in a massacre known as Tienanmen Square. Not only were 10,000 murdered, the government of China could apologize or say that they were not responsible for the acts, like many other countries with fallen dictatorships have, instead China decides to censor the event and does it's best to make sure people are unaware.
Business Insider reports
The 25th anniversary of the Tiananmen Square massacre is this week, and China is taking extreme measures to make sure nobody commemorates the event.
In 2012, China Digital Times identified more than 100 search terms China bans around the anniversary of Tiananmen Square. The country has already shut down Google services ahead of the 25th anniversary.
It is obvious that the government of China itself poses a greater threat to its citizens than the terrorist organizations it uses to justify such horrendous acts. It is rather interesting that many organizations and governments around the world, who claim to be protecting and fighting for a specific group, themselves are the greatest threat to that group.
BBC reports
The claim is similar to one in a 2011 report by the US government's National Counter-Terrorism Center (NCTC), which said: "In cases where the religious affiliation of terrorism casualties could be determined, Muslims suffered between 82 and 97% of terrorism-related fatalities over the past five years."
When citing these sources, it can be concluded that extremist groups pushing for Islam are not only un-Islamic by their acts but also anti-Islamic, similarly like many governments like China are not only futile for their country but, in a way, are also against the country they claim to be working for. It is obvious that many governments and dictatorships alike strive for not the goals of their country but work towards personal goals at the expense of innocent lives. We should make sure we are informed enough about our government to prevent such governments from rising.
Article published by
Zohaib Shahid B.